About Us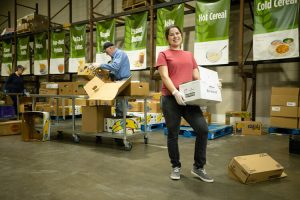 Feeding America Eastern Wisconsin is the leading hunger-relief organization in the state, operating food banks in Milwaukee and the Fox Valley.
Together with our members, we are providing healthy and nutritious food to those who face hunger. We are also developing innovation solutions to improve the health of our communities.
Top 10 Reasons why food banks needs cash over cans:
You don't have to go to the grocery store or clean out your pantry.
That $1.49 you spend on a can of corn will purchase nearly 7 cans when we buy in bulk.
It's better for the environment and for the hungry – every mile driven by our trucks costs 15 meals for the hungry. Keeping our trucks running efficient routes to deliver food to pantries cuts down on emissions and saves money. Wins all around!
Meals actually mean meals. When we purchase food in bulk, we buy items to allow a family to make and share a meal together. We're able to purchase items for a well-balanced meal, at a far lower cost than retail – your $1 to Feeding America Eastern Wisconsin provides 3 meals to those in need!
Nutrition counts! We are able to provide food with a higher nutritional value when we leverage our buying power and purchase in bulk. Low sodium vegetables; fruit packed in juice, rather than syrup; tuna packed in water, not oil.
Fresh fruits and vegetables improve health and well-being. You can't donate a bag of apples to a food drive, but you CAN donate money to buy apples through our Virtual Food Drive.
We can feed the hungry, rather than be food inspectors. Every donated item that comes to us has to be inspected for damage and dates, sorted into bins, inventoried and stored.
We buy what people want, rather than distributing what people DON'T want. Our pantries understand hunger relief needs.
A portion of the food donated to Feeding America Eastern Wisconsin is damaged or beyond its useful date. But we still have to inspect and sort it. That's inefficient.
It's fun, easy and super impactful to host a virtual food drive!
As the coronavirus (COVID-19) pandemic continues to spread globally and throughout the United States, we are taking proactive measures to protect the health and well-being of our staff, volunteers, and neighbors as we remain committed to serve our community. According to Governor Tony Evers' "Safer at Home" order, Feeding America Eastern Wisconsin has been identified as an essential business and will remain open.
Feeding America Eastern Wisconsin is able to continue our operations and utilize our staff and volunteers to serve our neighbors to the best of our ability every day and especially during this crisis.
We work tirelessly to support food-insecure individuals and families in our community, but if we want to realize a future without hunger, we need your help.
By creating an individual fundraiser, team fundraiser, or virtual food drive, you'll not only raise money to support our hungry neighbors, you'll also help spread awareness of food insecurity.
Thank you for joining a growing community of fundraisers who are making a lasting impact.
If you would like to make a one-time donation directly to Feeding America Eastern Wisconsin, click here!